Paddleboarding (SUP) in Muskoka
At Liv Outside we have one of the longest histories with paddleboarding in Canada. Being one of the first retailers, instructors and rental areas for this sport dating back to the early 2000's. Our river environment is the perfect place to experience this great sport that is all about balance! We offer a wide variety of boards in order to meet the needs of both first timers and the well experienced fitness paddlers. So what is so great about this stand up paddlesport? Firstly it is a great exercise that uses your whole body in the stroke as well as improving your balance and secondly, it's DARN FUN! Yes you are likely to get wet but this is likely an activity that will have you coming back regularly to enjoy and improve your skills. Our river is calm, sheltered and quiet with plenty to explore so from your first time to a regular routine we are your best launch into this great activity.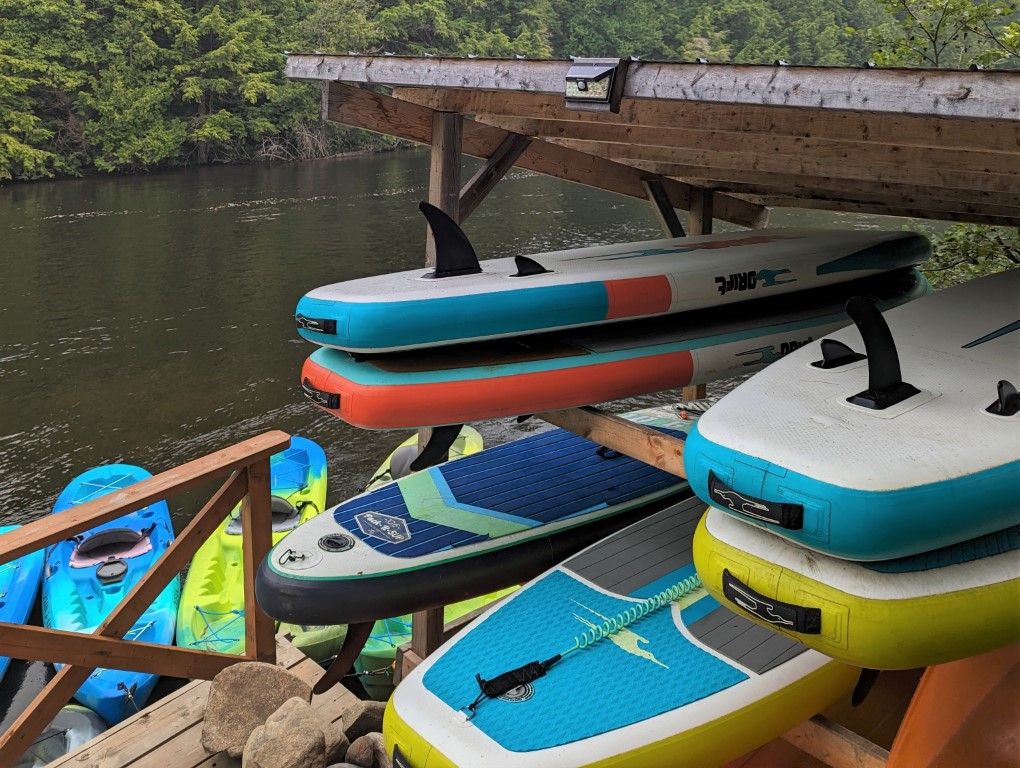 We now offer both Inflatable and rigid/composite paddle boards in a variety of shapes and sizes for all experience levels. In both constructions we will have larger and more stable boards to more efficient touring designs. Our staff will help choose what is best for you! We offer only the highest quality rental boards and equipment in Ontario. We recommend inflatable paddleboards for beginners and composite boards for paddlers with experience seeking a more responsive feel to the board.
Want to get the most out of your paddle boarding experience? Why not try a course or guided trip with instruction? There is a lot of fun to be had with this sport and some time in a group with one of our instructors can ensure you have a blast on the water and get the right techniques in a few short steps!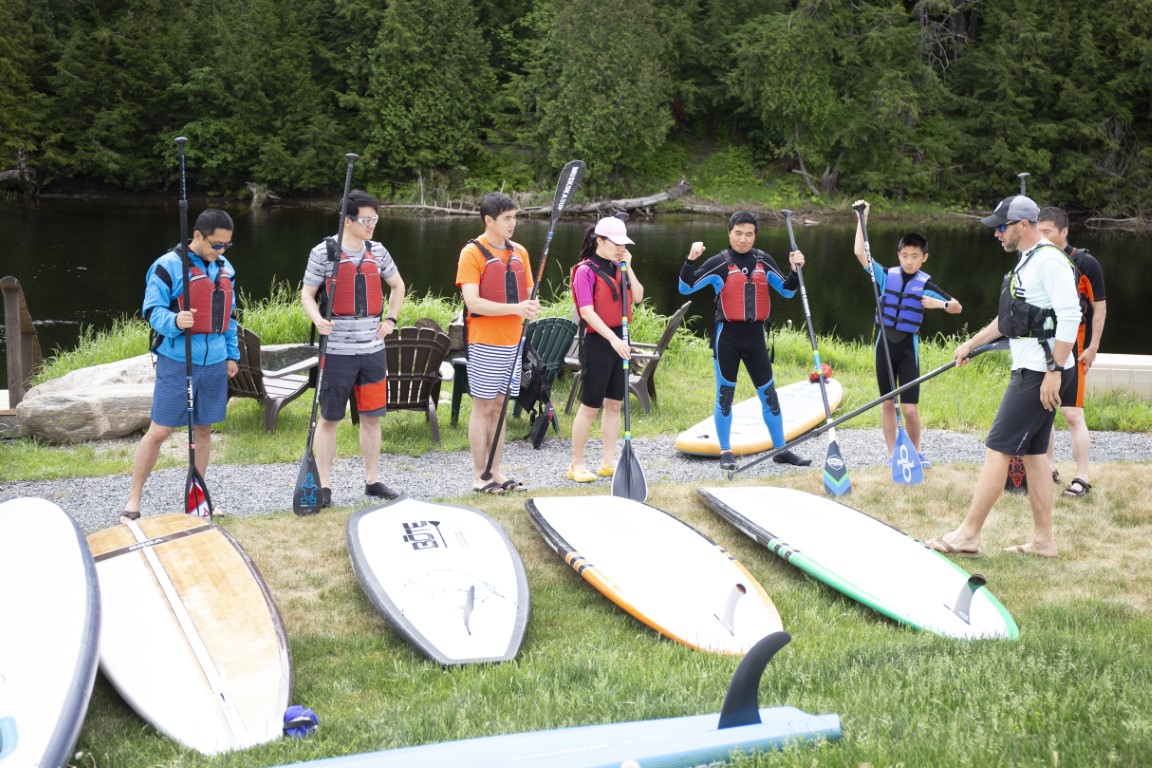 When you place your reservation you can choose from a Self Guided trip from 1 to 4 hours to which you can also add a 15 minute instruction option. If you are new to paddling we also have guided trip options on weekends which will include your instruction and a guide to show you the best parts of the river!
If you are an experienced paddler looking for equipment for a multiple day SUP adventure you can reserve equipment under our Summer Rentals! Our waterfront has all the equipment to safely load a paddleboard onto your vehicle and assistance from our staff to get you efficiently on your way to your next destination. We'll get you set with the perfect board for enjoying time on the water on Muskoka Lakes and Rivers, BigWind Provincial Park and the Poker Lakes Wilderness area.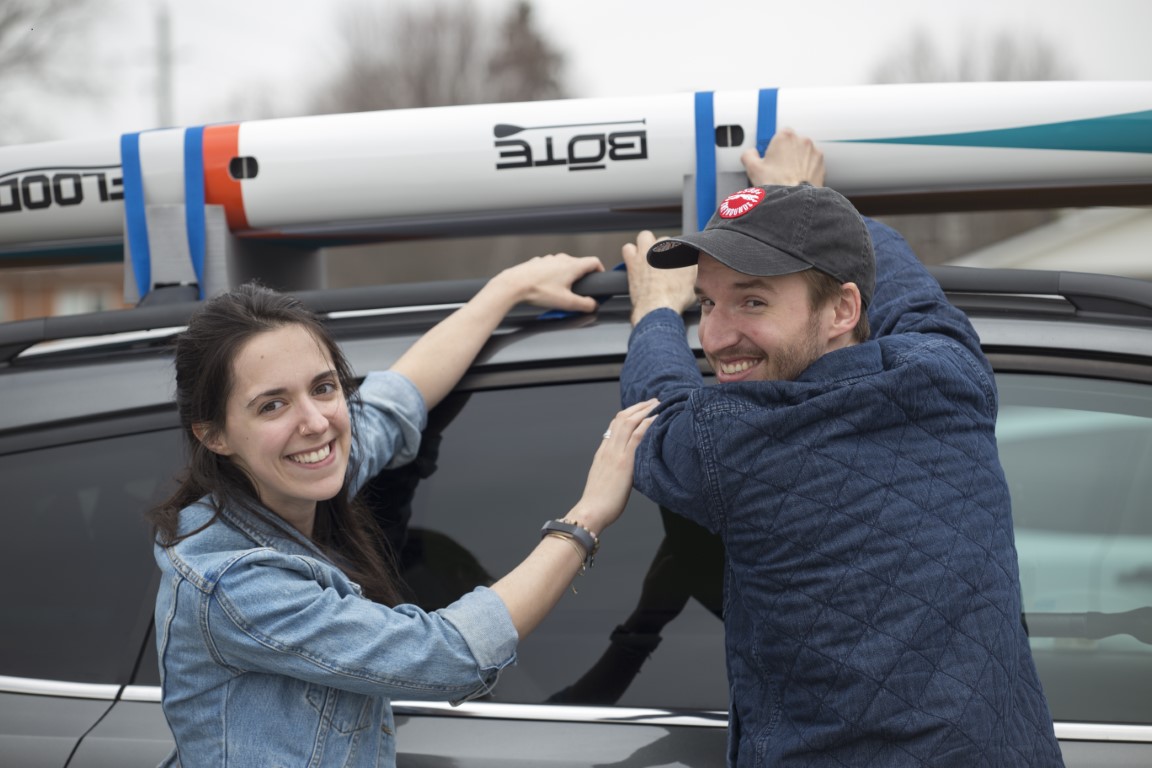 Book Your Paddleboarding Adventure
FAQ - please read before you rent a paddleboard
Do you need to book in advance?
For weekend adventures or groups of over 6 people you can book your rental a minimum of 48 hours in advance. If you did not book in advance, no worries, you are still able to come visit us in store and we can try to put you and your group out on the water on a first come first serve basis.
Can I book for 1 day?
For rentals that are taken off site there is a 2 day minimum. Any rentals that are on site and utilize our docks are done in 1, 2, or 4 hour adventures.
Do I need to put a deposit/down payment for rentals?
In order to reserve boats/bikes in advance for rentals or adventures, we require a deposit of 50% or you may pay in full. This deposit secures that the boats are ready and available for your visit.
If we pay for an hourly rental and decide to keep the boat/bike out for longer, can we just pay the difference? 
With our busy schedules and for safety reasons we need to know exactly when each boat is going out and coming back. This means you should book for the amount of time you would like to be out for . If you are debating between two times we suggest you choose the longer of the two. If you do stay over the time allotted or passed close there are late fees.
What is the cancellation policy?
We require a minimum 48 hours advance notice for cancellations on rentals. We can either give you a credit that is good for up to a year or reschedule your booking for a later date. We can also refund everything but 30% of the order if given ample notice. If reserved online we are unable to refund and can only reschedule.
What is included in the rentals?
All boat rentals we include lifejackets and paddles for all paddlers in the boat, as well as a safety kit in each boat. Bike rentals include helmets and an area map. We provide any necessary equipment for boats and bike rentals, all we ask is you return everything you take out and enjoy.
What happens if it rains?
Unfortunately we can not control the weather, so if it happens to rain on the day you scheduled your rentals it is up to you if you still want to go out on the water or trails. As long as weather permits us to launch your group safely, it is up to you. We can not issue any refunds due to the weather, but we can reschedule the rental for a later date.
Can we do a 2 day rental over a weekend? 
If you are looking to rent over a weekend we ask that you make it a 3-day rental and pick it up on the friday or drop it off on the monday. The store gets very busy on the weekends and we unfortunately do not have the manpower to be able to set up multi-day rentals  and put hourly rentals in the water.
Do we deliver?
On weekdays we are able to deliver to many places in Muskoka. The cost will depend on how far away you are from our location and what equipment you are renting. If you are interested in delivery please give us a call so we can quote a price and add the delivery to your order.
Do you have refreshments?
We now have beverages including water, vitamin water, gatorade, and ice tea available for purchase on site. We also have some light snacks such as granola or fig bars, and are looking to expand our food options.
Can we rent one item for a few hours and have multiple people use it?
We need to be able to account for each person and the equipment they are using for liability purposes. This means you are not permitted to switch boats during your rental period or to have another person try out your equipment. We have many boats and are able to get your whole group on the water at the same time.
Can we get instructions for only one member of the group?
If you are first time paddlers we strongly recommend that everyone in your group takes the lesson. We are unable to only teach one out of the group as the information could be wrongfully passed on when not taught by a knowledgeable staff member. Your safety is our first priority; this is the main reason for the $5 instruction course.
Where can I keep my belongings while on the water?
We recommend leaving any belongings in your car, but if you do wish to take anything out on the water your best option is to bring or purchase a drybag. Car keys and licenses are taken by the waterfront staff as a liability and will be returned when the boats are brought back to the waterfront.
What happens if I tip my boat?
We offer a $5 instruction course for all new paddlers, during which the waterfront staff will teach you how to properly paddle the boats. If your boat does tip after receiving the instruction course we will recover it free of charge. However, if you refuse the instruction course and tip your boat, we have a $50-100  rescue fee if you require assistance from the waterfront staff to bring your boat back to the docks. If anything is lost in the river due to the tipping of your boat, we can search for it but we are not liable if it can not be found. We rarely have boats tip.
How many people can fit in the boats?
2 people can fit in most of the canoes and tandem kayaks, all other kayaks fit 1 person. Paddle boards are also single paddler boats. Our 3-seater canoes fit 2 adult paddlers and a child.
Where can we put the boats in the water?
We are located on the beautiful south muskoka river and have docks available to launch the boats from our location for the hourly rentals. You are not required to move the boats off site unless you are taking one for a multi-day rental. If you are wanting to launch your own boat from our dock there is a $5 fee per boat. This covers the launch and parking.
Where can we paddle while doing the hourly rentals?
In 1 hour you can go to the Bracebridge falls in the middle of town, in two hours you can explore sharps creek, and in four hours you can go visit the South Muskoka Falls and stop for a bit of a swim.
Searching Availability...
Looking for our OFF SITE multi-day Summer rentals?