THERE'S NOTHING LIKE THE VIEW FROM THE WATER - ABOUT NATIVE WATERCRAFT.
The company was founded in 2002 by a group of kayaking enthusiasts who were passionate about developing a new type of kayak that would be more stable, comfortable, and versatile than anything that was currently on the market.
One of the key innovations of Native Watercraft is their patented Propel Pedal Drive system.
THE NEWEST MATERIALS AND TECHNIQUES ALWAYS GET OUR ATTENTION.
We are committed to taking our environmental impact as close to zero as we can get. The vast majority of components in our kayaks can be recycled at the end of their usefulness. The recycle-reuse-repurpose mantra extends throughout the manufacturing process as we sort virtually all waste materials and flow it to recyclers.
Length 10'
Width 34"
Weight 62 LBS
Capacity 400 LBS
The lightest 10' rotomolded pedal fishing kayak on the market. Weight– or lack of to be more precise. Weighing in at 62 lbs (without the drive unit) the Slayer Propel 10 is the lightest 10′ pedal drive fishing kayak on the market.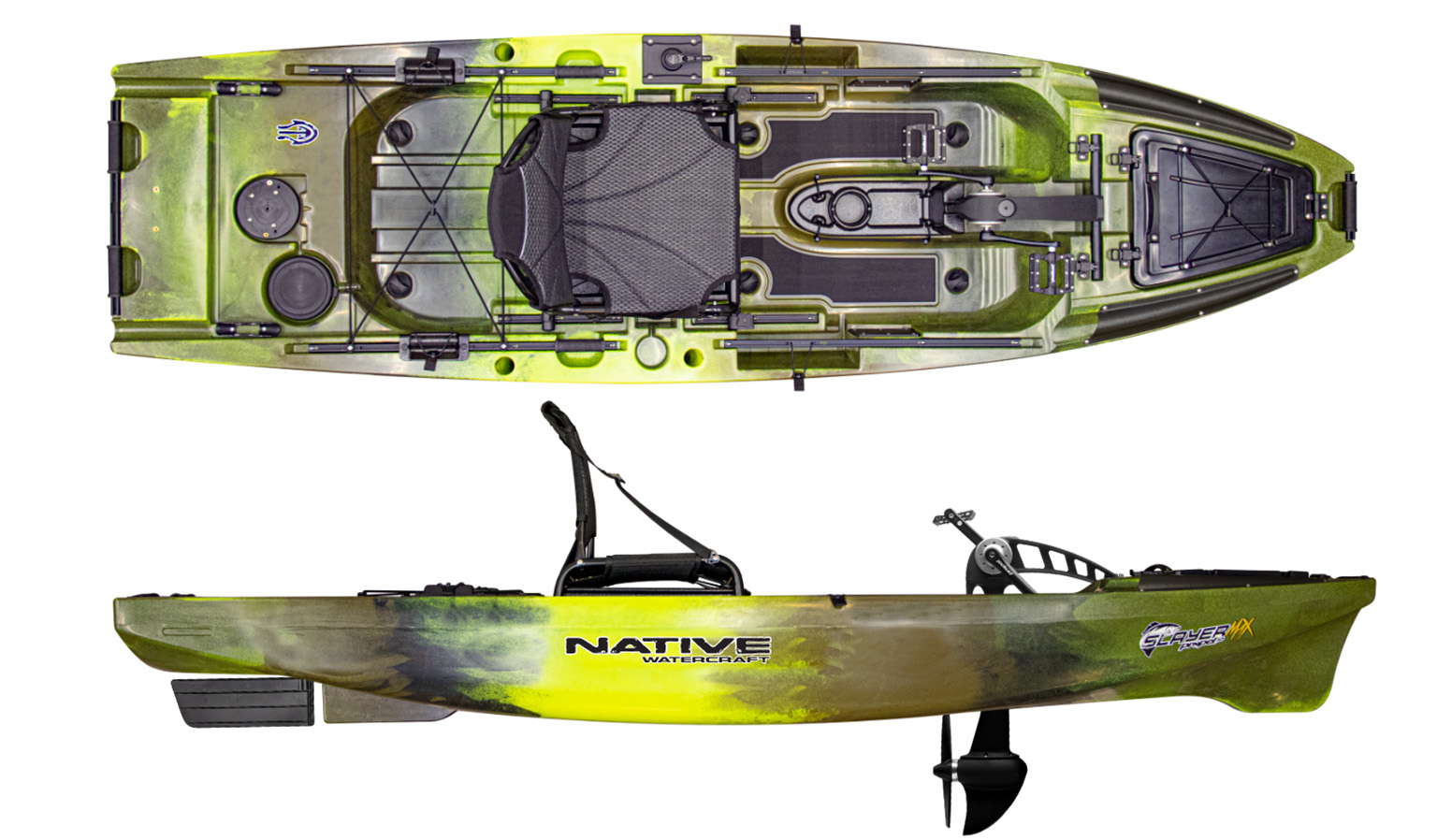 Length 10'
Width 34.15"
Weight 75 LBS
Capacity 400 LBS
The most compact full featured boat on the market.  Fits in the bed of a truck but has all the features of a 12 plus foot long boat along with all the electronics capability. Its the only boat on the market of it's kind.
Length 12' 6"
Width 34"
Weight 95 LBS
Capacity 500 LBS
The large and in charge kayak fishing machine has arrived. One of our most popular designs of all time, the Slayer Propel 12.5 has been updated to the max! Meet the new Slayer Propel Max 12.5 with SpringBlade Rudder System. Featuring the proven Propel Pedal Drive and impressive kayak fishing features that will take your experience on the water to the next level.
Length 10' 5" - 13' 6"
Width 37.5" - 41.5"
Weight 121 LBS - 178 LBS
Capacity 500 LBS - 550LBS
Bass fishing kayak extraordinaire. The Titan is a hands-free forward to reverse, Propel Pedal driven, bass fishing kayak extraordinaire. The Titan Propel offers incredible stability with ample room and flexibility to move around. Optimal for sight casting with plenty of leverage to reel in the catch, this is an angler's fantasy fulfilled.
Length 10' 8"
Width 38"
Weight *TBD
Capacity 475 LBS
Length 12' 8"
Width 40" 
Weight TBD
Capacity 500 LBS 
Introducing the Native Watercraft Titan X Propel, the pedal-driven fishing kayak that will revolutionize your angling experience.
Featuring innovative electronics and motorization integrations for easy installation, precision steering control, 360 PivotPro swivel seating, and unmatched stability. The Titan X is the pinnacle of fishing vessels, and it's made in the USA.
Rule the water. Catch more fish.