Covid-19 Statement
Supporting each other while we are apart. Home delivery, Online orders and Sound advice (by phone or email)
We know you are currently flooded with updates on how every business is handling the challenges presented by the Covid-19 spread but we hope you will take this quick read on our strategy to support each other through the difficult road ahead.
Firstly we feel it is an appropriate strategy to minimize interaction and as such will be shutting down store hours to an appointment only basis effective April 17th until May 5th. During this time we will continue to ship online orders, answer phone and email inquiries. We will focus our efforts on helping you find the right equipment and providing home delivery!
Below is a list of ways we are working to support you during this time and minimize the Impact!
Our Store will regularly receive a more thorough cleaning of all touch points, Door handles, debit machines, etc. as well as providing a hand sanitizing station for visitors.
We will make sales advice on our products available to you in store by making appointments via email or offering advice by phone at 705.646.0492.
We will maintain lower pricing on most imported items despite the recent changes in exchange rate and introduce additional specials for pre-orders on the latest Boat and Bike models.
Delivery – While we have regularly offered local home and cottage delivery of our larger items like Paddlesports we will now offer personal delivery service for Bikes and all Boats and Boards to a broader area of Ontario through a regular delivery schedule. This will also allow us to continue to offer the personal approach you would expect in store but to your door. Online shipping continues to be available across Canada on most items.
Private Adventures – We will continue to provide private bookings for our available adventures however limited at this time of year with the transition in seasons but if you're looking for something to do with your group we can certainly discuss what we can make happen to keep you entertained outside!
Trails – Our Liv Bike Park trails will remain open and free of charge for hiking and biking at your own risk. Should conditions become soft we ask that you minimize trail damage by leaving the trail. If you would like to assist in Spring maintenance please contact us to sign up with our trail crew.
Waterfront – Our waterfront is opened for the season. Please call to book an appointment for the rental.
Great Ways we can help each other!
Revisit our product offerings by visiting one of our websites!
w.fatbikes.ca offers a complete selection of unique Fat Bikes, parts and accessories
www.boteboard.ca we are the Canadian direct retailer for the entire line-up of Bote Paddleboards and accessories. You can see all products online and in store. We ship across the country and can personally deliver direct to you.
www.livoutside.ca Our main website is evolving and currently presents the outdoor activities we offer and some of our Paddlesports, Bikes and equipment offerings. Much of what we offer on our online catalogue is not current as a new e-commerce website is currently in development and launching soon! For now check out our online inventory lists for current deals on remaining 2019 and older stock or call and we can help you with the best options we have to suit you.
Shopping for new items we will work to be your best option on the latest innovative outdoor products. While we do not always offer the lowest price products or the largest selection we do strive to offer products that represent the best value and stand apart from the crowd.
If you reached the end we thank you so much for taking the time to follow our business and wish us all the best in the adventure ahead!
Owners + Staff
Liv Outside – Gear + Adventures
Book Your Summer Adventure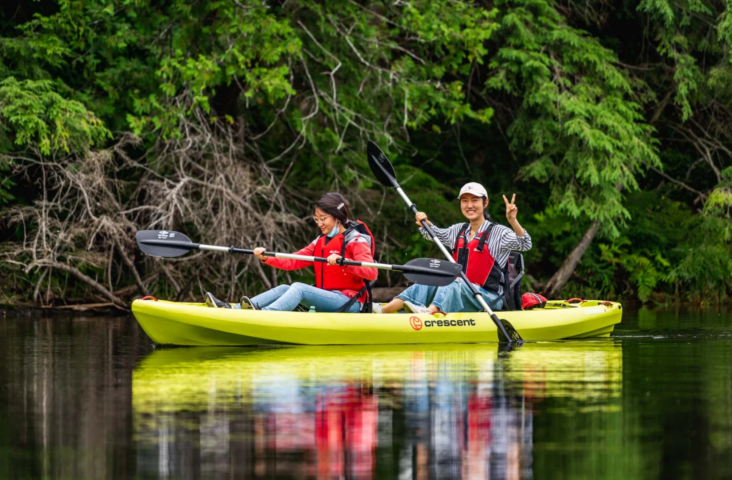 271-1 Ecclestone Drive, Bracebridge, ON
1 705 646 0492
1 866 646 0492
info@livoutside.ca