Sale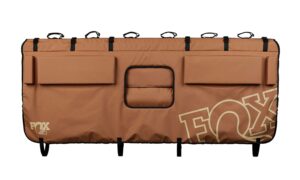 Fox Overland Tailgate Pad
$132.98 – $149.98
DESCRIPTION
Padded protection for your most prized possessions. Featuring durable PVC tarpaulin on the outside, a micro-brushed inner lining to keep your tailgate scratch-free, plus raised bumpers and downtube straps to keep your bikes separate, the Overland Pad can transport up to six bikes, safe and secure.
Available in three sizes:
Half-Size (up to 2 bikes) – partial tailgate coverage for most trucks
Mid-Size (up to 5 bikes) – for Small and Mid-Size Trucks (Tacoma, Frontier etc)
Full-Size (up to 6 bikes) – for Full Size Trucks (F-150 to F-350, 1500 – 3500 series, Tundra and Titan)
There are no reviews yet. Be the first one to write one.
Leave a Review